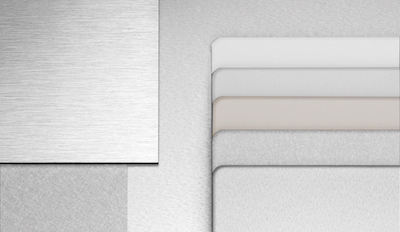 SUSTAINABILITY
Alucobond® for ventilated facades combines the characteristics of energy-efficient construction, economic viability and architectural quality. The ventilated facade construction technique is suitable for framing facades in old and new buildings, as well as roof constructions and interior applications.
Alucobond® is completely recyclable, i.e. the core material and aluminum cover sheets are returned to the material cycle and used in the production of new material. To separate the material it is possible, for example, to dismantle it with a blade cutter and then classify it.
CHARACTERISTICS
It is the high material value of aluminum that offers the economy the most important stimulus for recycling. Aluminum is fully recyclable, without losing its characteristics. Only 5% of the energy required for the first production is needed to smelt scrap. As such, the usefulness of recycling for the environment is evident.
APPLICATIONS
The good characteristics of the material contribute to inspiration and enable innovative solutions for the entire bandwidth in architecture – from private housing culture, through public buildings, representative company headquarters and offices to commerce and industry.

Discover this company's eco-products: